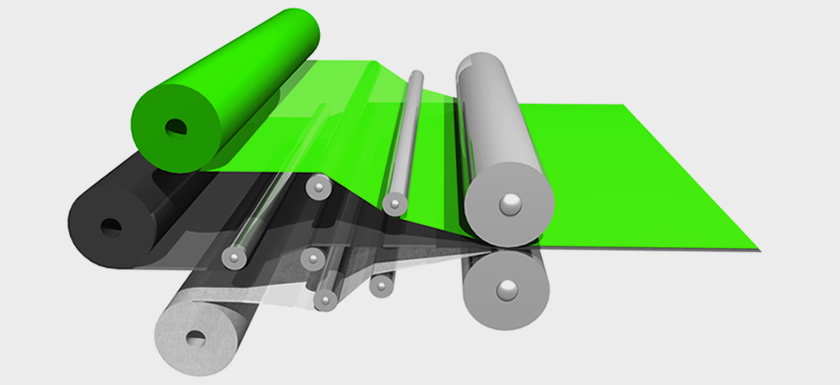 It is easy to see how Rossendale Combining can satisfy your requirements – no matter how diverse.
Whether you require an off-the-shelf solution, or a high level of product development, we have the most extensive range of products available in today's market.
Flame Lamination
The adhesion of fabrics to foam through the pyrolisis of the foam surface is the most efficient method of producing a foam sandwich. Developments in foam technologies have dramatically increased both the range and properties of foams available in today's market place.

Adhesive Lamination
Water based acrylics, moisture cure polyurethanes, heat reactive polyurethanes and EVA's are only part of the story. When it comes to the adhesive types available to you, application methods include spraying, scatter coating andcontinuous melt.

Thermo Bonding
We offer an EVA / Polyester adhesive coating service for both foam and fabrics which can be reactivated by the final user. Thermo Bonding has the added advantage of being environmentally friendly.

Heat Bonding
We are able to laminate using barrier films, breathable films and waterproof films. In addition to these available options we can also process customer's own pre-coated substrate sfor lamination.
Pressure Sensitive Adhesive Coatings & Tapes
Our company has supplied direct coated pressure sensitive adhesives for many years and has more recently added the manufacture of PSA tapes to our portfolio. With temperature resistance amongst the properties available, Rossendale Combining are able to offer solutions to meet our customers' exact requirements.
Narrow Width Slitting
We provide a wide range of narrow slitting services which can cut materials and substrates into varying widths in a single process. In addition we also have in-house spooling facilities which enable far greater meterage to be put on rolls than standard products.

Cut Parts & Shapes
In addition to our roll-to-roll lamination and coating services, Rossendale Combining can offer materials cut to length or die-cut to specific shapes to meet customer needs.